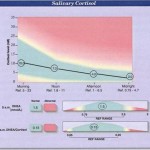 Are you Stressed? Wondering if the stress is affecting your health? This test panel utilizes four saliva samples in a 24 hour period to test how your adrenal glands/body is handling all that stress. Most people relate stress to the emotional component i.e. worry, anxiety. Stress can also come in the form of toxins, poisons, heavy metals, chemicals, pesticides, foods and infections. The test is completed in the comfort and privacy of your own home. Salivary cortisol (stress hormone) reflects the free (bioactive) fraction of serum cortisol and is a very accurate evaluation of stress hormones.
The test report shows the awake cortisol rhythm generated in response to real life stress. The test results facilitate the diagnosis of stress maladaptation and adrenal fatigue. The DHEA & DHEA-S panel measures the average DHEA & DHEA-S level for the day. The cortisol/DHEA relationship highlights many facets of stress maladaptation. The cortisol/DHEA ratio helps determine the projected time for recovery from stress maladaptation.
Please call our Natural Medicine Institute office in The Villages, FL @ (352-801-0021) for a consultation to discuss stress and its effects on your life.