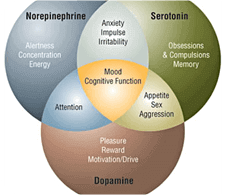 Neurotransmitters are the brain chemicals that facilitate the transmission of signals from one neuron to the next across a synapse. Neurotransmitters work with receptors in the brain to influence and regulate a wide range of processes such as mental performance, emotions, pain response and energy levels. Functioning primarily in the Central Nervous System (CNS), neurotransmitters are the brain's chemical messengers, facilitating communication among the body's glands, organs, and muscles. Studies indicate that upwards of 80% of neurotransmitter production takes place in the intestines, often referred to as "the second brain" due to the profound effects that gut health has on the production and functioning of neurotransmitters. Having a healthy gut is critically important to healthy brain and nervous system function. Numerous clinical studies have shown that inadequate neurotransmitter function has a profound influence on overall health and well-being such as:
Mood disorders; depression, anxiety
Adrenal dysfunction; fatigue, insomnia
Loss of mental focus; ADD, ADHD, cognitive fog (brain fog)
Addiction and dependency (food, drugs, alcohol, nicotine, sex)
Hormonal imbalances; Estrogen E2 dominance, Estrogen E2 deficiency, low androgens (male hormones)
Loss of appetite control; insulin resistance (diabetes)
Compounding these symptoms of imbalance are the myriad of bioactive substances like caffeine, alcohol and nicotine and many of the medications used to manage these conditions as well as some cholesterol lowering medications. These substances and medications can contribute to neurotransmitter depletion and resulting symptoms by suppressing or artificially stimulating neurotransmitter receptor function.
Dr. Podlaski at his Natural Medicine Institute office in The Villages, FL utilizes a simple urine test done in the comfort and privacy of your own home to test for neurotransmitter function.
Please call our Natural Medicine Institute office in The Villages, FL @ (352) 801-0021 for a consultation.