Many patients are strongly recommended to start a GLUTEN FREE LIFESTYLE based either on laboratory tests, genetic tests, symptom history or a combination of different factors. Gluten is a very difficult to digest protein, it causes inflammation in the body and is often a major source of your ongoing health problems in sensitive people. Especially in situations where an autoimmune disorder is diagnosed or suspected it is highly recommended that you eliminate gluten in your diet as completely as possible for a trial period of at least 12 weeks and very likely much longer.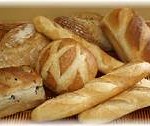 Not only bread contains gluten. There are other grains and many food additives
Going Gluten Free is a lifestyle change process, this will be explained to you as you start your journey of health and healing.
Now, the first thought most people generally have when they are told to go on a gluten free diet is "Oh no, what am I going to eat?" This is a great question but there is no need to panic. Most people have been eating gluten containing products their whole lives. We often associate these foods as "comfort foods" such as bread, cakes, cookies, cereal, pasta, muffins, pies etc., so it's no wonder the first thought is one of being denied that which we have been eating all of our lives. In essence people have an emotional attachment to these foods which we will address shortly. Unfortunately, if you are one of the 1% with celiac disease or the 30-40% of people that are non-celiac gluten sensitive the comfort foods you crave are also the very things that are making you sick and your health suffer.
Gluten sensitivity is not like the T.V. commercial saying "What happens in Vegas, stays in Vegas", with gluten sensitivity it's more like "what happens in the gut, doesn't stay in the gut." In other words, the health issues that you are experiencing are usually not restricted only to intestinal problems such as gas, bloating, cramps, constipation or diarrhea but generally can affect your muscles and joints, your brain and your endocrine glands and organs such as your thyroid, pancreas, prostate, liver and even your cardiovascular system.
Gluten sensitivity is becoming more and more recognized as a major health issue not only by individual people but by cutting edge health care providers, restaurants, food manufacturing/processing companies and other health conscious concerns. These days gluten free is everywhere! Eating gluten free today is much different than say even 10 years ago where admittedly most if not all gluten free products tasted more like cardboard than food. That is just not the situation today. Gluten free foods bought in stores, the alternative products for home cooking and the companies that produce them have come a long way in that they taste just like "comfort foods" you are used to eating. However, you need to be aware that just because something is gluten free does not necessarily mean it is healthy. In other words, be careful that you do not just replace regular junk food with gluten free junk food. Some people have stated that a gluten free diet is unhealthy. What is actually the truth is that an unhealthy gluten free diet is unhealthy.
One thing that you should take comfort in is that you are not alone in making the conscious decision to go gluten free. There are literally millions of others worldwide that have chosen a gluten free lifestyle in order to take charge of their health issues, improve their lives and get themselves back on the path to a healthier disease-free lifestyle. A final word of caution, something you should be aware of. The FDA allows manufacturers to have up to 20 mg of gluten in their products and yet will allow them to label their products as "gluten free". To be safe look for "Certified Gluten Free" labeling.
Another thing to think about in making this healthy choice is that you should reframe the way you look at your healthy decision. Instead of looking at what you think you are being denied in the way of foods, rather look at it as a very positive first step in finally having some control over the health problems that for many people have been making them miserable for years. A positive mental attitude is just as important as is eliminating the gluten sources in your diet. Make yourself and your health a priority.
If you are concerned or wonder if gluten may be a source of many of your health problems please contact us at The Natural Medicine Institute in The Villages, Florida at (352 801-0021) for a consultation on your path to a gluten free lifestyle.