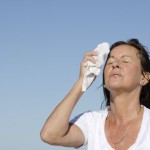 Salivary hormone levels reflect the active tissue fraction and they correlate more closely with clinical symptoms than serum hormone levels. Just as gonadal levels begin to cycle irregularly long before the initiation of menses, there are substantial shifts on hormone levels prior to the onset of menopause.
Menopause symptoms may include but are not limited to hot flashes, low libido, mood swings, depression, headaches, irritability, insomnia, memory problems, bleeding irregularities, osteoporosis, altered lipid metabolism, atherosclerosis.
The post menopause hormone panel that Dr. Podlaski uses at his Natural Medicine Institute office in The Villages, FL measures six to eight hormone values. Each report includes separate breast and uterine proliferation potential indices. The proliferative effects of the three estrogens on breast and uterine tissue-and their balancing antagonists, testosterone and progesterone are presented in an easy to read and understand graph form. Additionally, an example of an integrated restoration plan may be included with the results. This plan may include BHRT, dietary supplements and lifestyle changes based on up to date scientific literature and relevant publications.
Please call our Natural Medicine Institute office in The Villages, FL @ (352) 801-0021 to schedule a consultation regarding female hormone testing.