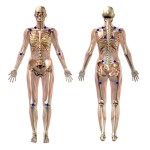 Chronic fatigue syndrome (CFS) and fibromyalgia (FM) are often linked together and are recognized as complicated multifaceted disorders that affects upwards of 1 million U.S. adults every year. Women are more prone to suffer the effects than men. It's primarily characterized by extreme fatigue that's not attributed to any specific underlying medical condition. Standard medical treatments that don't address them holistically invariably produce unsatisfying results. The key to understanding and overcoming CFS and FM lies in a holistic and encompassing approach to the problem(s). We have helped many in our functional medicine office in The Villages, FL with these conditions. We analyze all of the major or key elements of health that may play a role in these conditions. These key elements are:
Toxicity
Nutrition imbalances
Metabolic Imbalances
Allergies and Immunity
Stress and physical structure
Optimal organ and gland function
Genetics
Digestion
Absorption
Healthy bowel function
Signs and Symptoms of CFS and FM
You may have CFS or FM if you're experiencing the following symptoms:
Extremely low levels of energy that do not improve with rest or sleep
Brain Fog
Fatigue after mental or physical exertion, especially if the fatigue lasts longer than 24 hours after exertion
Difficulty with memory or concentration
Loss of interest in activities
Muscle and joint pain that can't be explained or related to activity
Sleep that isn't restful
Tender or swollen lymph nodes
Risk Factors and Potential Causes
Certain factors may increase your chances of developing CFS or FM
Gender: Women are diagnosed with CFS much more frequently than men.
Age: While CFS can develop at any age, it's most commonly seen in people in their 40s and 50s.
Stress: Difficulty managing stress may contribute to CFS.
There are a large number of causes and other diseases that can potentially trigger CFS or FM, making it one of the most commonly undiagnosed conditions that exist today. While the exact cause is unknown, there are several theories which include:
Viral infections
Lyme Disease
Drugs
Immune dysfunction
Hormone imbalance
Food intolerance or allergies
Low blood pressure
Environmental toxins
Cognitive dysfunction
Yeast overgrowth of candida
Leaky gut/dysbiosis
Heavy metal toxicity
Nutritional deficiency
Neurological and Structural Imbalances
Emotional stress or trauma
Diagnosis and Treatment
When trying to find the cause of CFS or FM, there are numerous factors to be considered. At Natural Medicine Institute, we have state of the art specialized testing to determine the source. After identifying the source, we develop a customized personalized plan to connect you with diet, nutrition and lifestyle changes to radically jump start your body's healing and recovery process.*
If you would like more information on how functional medicine in The Villages, FL at the natural Medicine Institute can get you back on a path of wellness, contact us at (352) 801-0021 for a consultation about treating your CFS or FM.